Our Services
Your smile is as important to us as it is to you. Our comprehensive dental services are designed with your unique needs in mind and include:
Tooth Protection
Preventive dental checkups, cleaning and routine dental X-rays, tooth-coloured fillings, root canals.
Braces
Traditional braces, Invisalign clear correct aligners; braces treatment for teens and adults
Dental Implants
Straumann Implants (implant supported over dentures)
Crowns, Bridges & Veneers
Cosmetic dentistry including porcelain veneers, composite veneers and whitening.
Root Canal Treatment
The aim is to save a tooth that has been damaged by infection or inflammation of pulp.
Wisdom Teeth Extraction
A safe and effective way to prevent your tooth pain symptoms from coming back.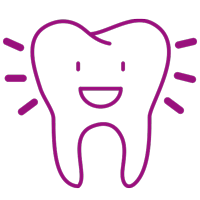 Teeth Whitening
Smile your best with professional and safe teeth whitening
Health Funds
All health fund providers & CBDS $1026 grant for eligible families.

General Dentistry
Dental Hygiene & Gum Treatment
Scale & Clean & Bleeding Gums Treatment
Preventive & Children's Dentistry
Dental Phobia's
Orthodontics, Braces & Plates
Whitening & Bleaching
Restorations & Inlays
Crowns & Bridges
Veneers
Root Canal Treatment
Grinding & Clenching Teeth
Sore Jaw Joints & Tension Headaches
Extractions
Implants
Snoring Devices
Wisdom Teeth
We also provide treatment for Veteran affairs patients, and CDBS (Commonwealth Dental Benefits Scheme) patients
Protect your smile & your health
Make an appointment for a dental exam today! We welcome all new patients to Baxter Dental Surgery, where most major forms of dental insurance are also accepted.
We are a proud member of the Australian Dental Association (ADA)